When you choose to offer Pecan Nation's pecans at your store, you're choosing the freshest product available, coming to you directly from the farmer. The process is dirt, tree, bag, and straight to you – there are no middlemen and no brokers, just a high-quality product for you to offer your customers. Get to know our team and you'll see you've made the right choice for your fresh pecans.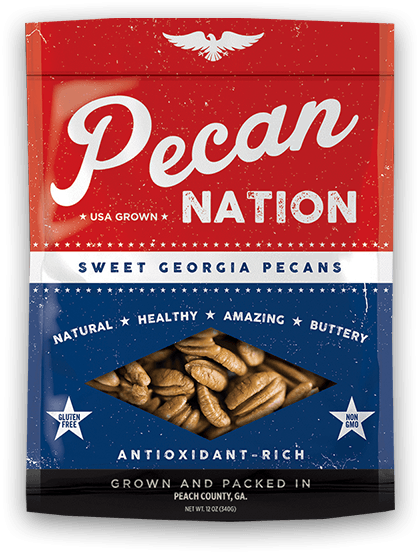 Why Our Pecans are Golden Instead of Brown
The common image of a pecan is brown and shriveled – that's what most people have come to expect. However, pecans that have been properly cultivated and prepared should be a rich golden color rather than dark brown. That brown color that has become synonymous with pecans indicates an extended time off the tree and a lack of proper preparation. The golden hue means delicious, fresh pecans.
With our pecans on your shelves, you can help us revolutionize people's ideas of what pecans are. When someone buys a Pecan Nation product, you can feel confident that it won't be the only product they purchase from you. Our pecans celebrate the history of America's only indigenous nut, which is evident with our red, white, and blue packaging and displays. Your customers will also appreciate learning that pecans are a healthy snack and a versatile ingredient in the kitchen. Plus, there's a flavor for everyone! From salty to sweet, our pecan flavor varieties are perfectly seasoned to satisfy any snack craving.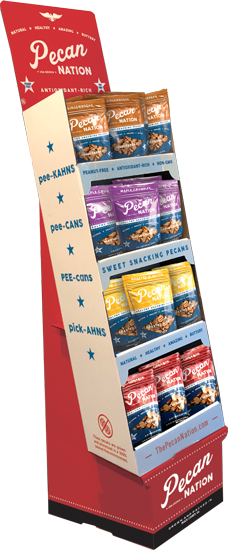 Our Package and Display Features
Packaging draws on the American spirit
Flavor introduction will grow category
Highlights antioxidant-rich health benefits of consuming pecans
Perfect promotion for patriotic holidays, October, November, and December
Display shipper makes an eye-catching incremental sales opportunity
8 oz. pack size will allow for aggressive retail
Seasonality:
Year-round (Gingerbread only available for the holidays)

Packaging:
8 oz. stand up, re-sealable pouch bag

Net Weight:
8 oz.

Case Pack:
12 bags per case

Pallet:
220 cases per pallet

Promotion Shipper:
Packed 48 bags per shipper

UPCs:
(R/S) 858282006438 (CN) 858282006445 (MP) 858282006469 (GB) 858282006452