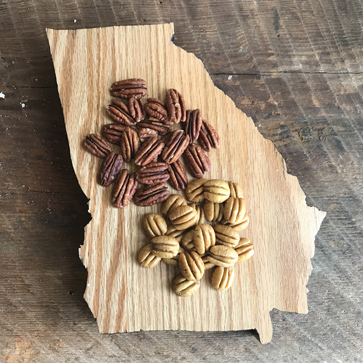 At Pecan Nation, our team is made up of fifth-generation pecan growers and peach farmers. Like other farmers of their time, the first pecan growers in our families planted pecan trees around houses, railroad tracks, and on any pieces of land they owned that couldn't be farmed.
Once the pecans were ready, they would throw sticks into the pecan tree branches to knock the pecans down. Our second-generation farmers realized these delicious pecans were able to be bagged and sold. Their children took this a step further by planting the pecan trees in rows (orchards), irrigating them, and maximizing the volume per acre.
Between the fourth and fifth generations (us!), we built on the techniques and legacy passed down through our families to continue this incredible tradition. Growing the proper pecan takes discipline and pride. At Pecan Nation, we tend 100-year-old orchards planted by the generations before us, and we, in turn, plant new orchards for our children, grandchildren, and future generations to tend for the next 100 years.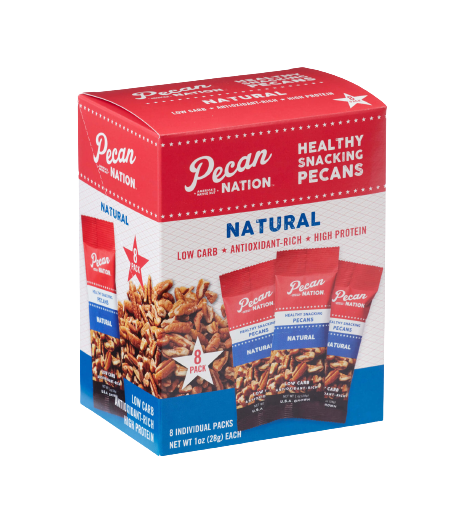 Pecan Nation's Commitment to Quality
Cultivating and producing high-quality pecans for people to enjoy is in our blood. It's something we take very seriously. Of the many varieties of pecans we grow, we only select the most flavorful varieties to take home to mom. In other words, we've done our homework. There are hundreds of pecan varieties in the world. Throughout our time as farming experts, we've narrowed all those varieties down to a few top favorites. You can trust that every Georgia pecan you order from Pecan Nation has the benefit of generations of thoughtful cultivation behind it.
Of course, our team does more than just grow the best pecans in Georgia. In order to bring you consistent quality, we harvest our pecans at peak ripeness so the actual pecan nut, or "meat," is also at peak flavor. Our pecans that you'll find in the store have been hand-selected for their quality and color to ensure that you receive the best flavor possible.
Varieties We Offer
Although we produce dozens of pecan varieties (and multiple flavors) at Pecan Nation's farms, there are four specific types that we focus on: Schley, Farley, Elliot, and Desirables.
Why these types of pecans? We feel that they grow best in our groves. We also believe that they make the best Georgia unshelled or shelled pecans. Plus, they're versatile nuts. You can use our gourmet Georgia pecans for snacking, topping or baking.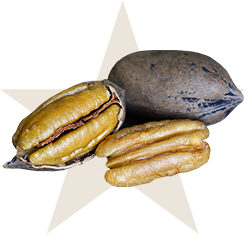 Schley
Schley pecans, pronounced "sly," have some of the thinnest shells of all pecans, making them the easiest to crack. The Schley is an oily pecan prized by many for its great flavor.
Many snacking enthusiasts and bakers prefer using Schley and Schley-variety pecans because these nuts have a consistent look and intense taste. Expect true richness every time you bite into a Schley.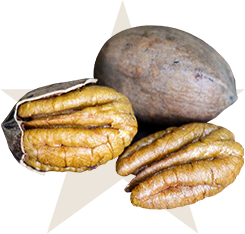 Farley
Named in the early part of the 20th century, Farley pecans are a great nut to grow and shell. The meat releases well from their shell and the skin is contoured so much that one domestic baker said they "reminded her of monkey bread."
In fact, many people appreciate the Farley because of all its grooves which can easily hide added seasonings like salt, sugar or cinnamon. The meat of the Farley, which remains one of the most sought-after gourmet Georgia pecans, has a uniquely rich, nutty flavor.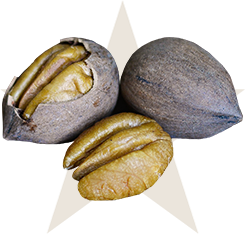 Elliot
Elliot pecans have a thick, hard but smooth shell and are smaller than other varieties. Despite their small size, Elliots are famous for their buttery, hickory flavor. Elliots are especially popular for use in pecan pie and other sweets.
They exude a freshness that you can taste the moment you bite into one. Elliots typically grow in a leisurely manner which makes them especially prized. However, they're well worth the wait!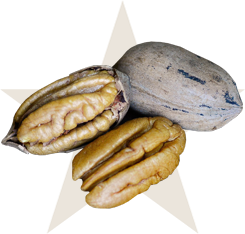 Desirables
Hearty and memorable for all the right reasons, Desirables are among the largest pecans around. They're even referred to as the "mammoth" pecan. Their shells, like the Schley, are thin and easy to crack.
With its flavorful meat, the Georgia Pecan Commission rates Desirables among the best pecans for roasting. What more than the best pecans in Georgia could you expect from a nut with a name like "Desirable?"
Why Our Pecans are Golden
The common image of a pecan is brown and shriveled – that's what most people have come to expect. However, properly cultivated and prepared pecans should be a rich golden color rather than dark brown. This is a big surprise for many people, especially when they open a bag of our gourmet Georgia pecans and see how golden they are!
Why are the pecans that come from the Pecan Nation groves so meaty, tasty and golden, rather than brown?
The brown color that has become synonymous with pecans indicates an extended time off the tree and a lack of proper handling. Pecan Nation pecans are always golden, so you know you're getting a fresh, delicious product.
Conduct a taste test yourself to see how big of a difference our harvesting process makes! We work hard to pick and process Georgia pecans precisely at the right moment so you get the best flavor possible.
Our Process
We've spent five generations honing our process for growing and selling our Georgia-shelled pecans. This process allows us to consistently produce Georgia pecans that will satisfy all of your snacking and baking needs. Below are our four steps that go into bringing you the best pecans you can find on the market.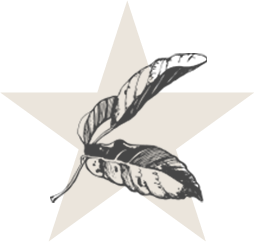 1. Planting
We begin by selecting sites with access to plenty of water and plant trees that are two or three years old. These trees are then irrigated and fertilized year-round until they are ready for cultivation at 10 years old. Yes, we're patient! That's one of the secrets of our exceptional Georgia pecans.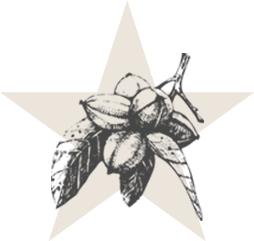 2. Cultivating
Trees are pruned so that light can penetrate the canopy and shaped so the pecan tree shaker to properly access the tree. The shaker attaches to large limbs and shakes the pecans loose so they fall to the ground.  Centuries ago, people had to do this task by hand. The shaker has transformed our ability to rapidly dislodge ripe and ready pecans.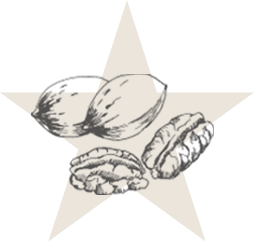 3. Collecting
The pecans are brushed into rows away from the base of the trees before being picked up by a harvester. The harvester sends the pecans through a series of air drops to expel leaves, sticks, and husks.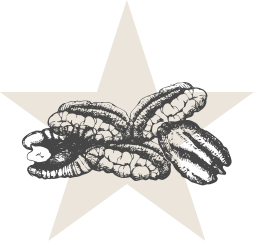 4. Preparing
Once collected, our pecans are taken to our cleaning plant where they are dried to 4% moisture to prevent spoilage. They go through further airdrops to remove any other unwanted materials before being cracked, cleaned and bagged at our shelling facility. The next stop is the customer! View all of our pecan varieties.