Whether you're looking for a new dish to add to your holiday treat lineup or you just love all things pumpkin and pecan, this caramel pecan pumpkin pull-apart recipe is for you! Whip up a batch the night before your event and bake the day of to enjoy this warm and sticky treat with your loved ones.
If you'd like to try a different flavor than pumpkin, consider adding applesauce to the dough instead of pumpkin. For chocolate lovers, drizzle melted chocolate or hot fudge over the top once the pull-apart is finished baking. You can also have a little flavor fun with the pecans by using some of Pecan Nation's flavored snack pecans, like cinnamon or gingerbread.
These pull-aparts take about 40 minutes to prepare, a night to sit and about 25 minutes to bake. The recipe makes 16 servings and is best served fresh and warm.
Pecan and Pumpkin Pull-Apart Buns Ingredients
Caramel pecan mixture:
1/4 cup butter, cubed
1 cup chopped pecans
3/4 cup packed brown sugar
1/4 cup honey
1/2 cup heavy whipping cream
Pumpkin dough:
1 package (1/4 oz) of active dry yeast
1/4 cup warm water (110 to 115 degrees Fahrenheit, not hot)
2 1/4 cups all-purpose flour
1/4 cup sugar
1/2 teaspoon ground cinnamon
1/2 teaspoon baking powder
1/2 teaspoon baking soda
1 teaspoon pumpkin pie spice
3/4 teaspoon salt
1/2 cup buttermilk
1/4 cup cold butter, cubed
1/2 cup solid packed pumpkin
1 teaspoon vanilla extract
Caramel Pecan Pumpkin Pull-Aparts Directions
1. Melt the butter in a small saucepan over medium heat. Add the pecans, stirring for two to three minutes or until they're fragrant. Stir in the brown sugar, honey and heavy whipping cream. Stir until the sugar dissolves and the mixture darkens. Pour the pecan mixture into a greased 9-inch square pan.
2. Dissolve the yeast in warm water and set aside.
3. Combine the dry ingredients in a large bowl, including the flour, sugar, pumpkin pie spice, baking powder, baking soda, cinnamon and salt. Next, cut in the butter until the mixture becomes crumbly, then add the wet ingredients, including the buttermilk, pumpkin, vanilla and yeast mixture. Combine well.
4. Place the dough onto a floured surface and knead gently about eight to ten times. Add additional flour as needed. Roll the dough into a 9-inch square and cut it into 16 pieces. Place the pieces over the pecan mixture and cover with plastic wrap or foil. Refrigerate overnight.
5. Preheat the oven to 400 degrees Fahrenheit, removing the pan from the refrigerator at least 30 minutes before putting it into the oven. Uncover the pan and bake for 24-28 minutes or until the pumpkin dough is golden brown. Remove the pan from the oven and carefully invert the pull-aparts onto a platter. Serve warm and enjoy!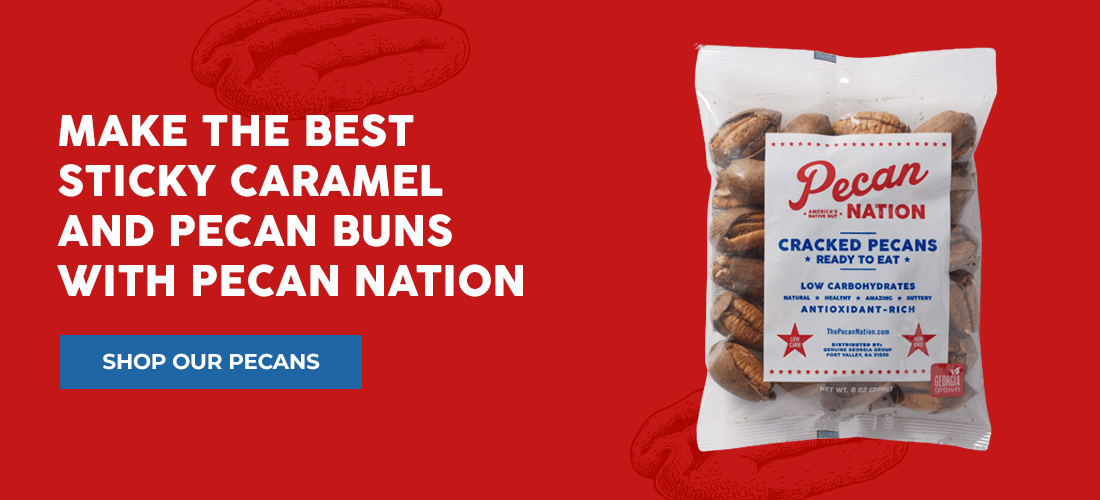 Make the Best Sticky Caramel and Pecan Buns With Pecan Nation
Ready to make this mouthwatering sweet treat? Pecan Nation can help! Our selection of pecans will help you create a tasty dessert that will have your guests begging for more. Shop our pecans today to get cooking!