If roasted carrots are a classic dish at your Thanksgiving or holiday meals, consider adding a unique twist this year with this quick and easy roasted carrots and pecans recipe. The sweetness of the carrots and candied pecans combined with the tangy, earthy hints of goat cheese makes this side dish a perfect addition to any feast. It may even become a new family favorite!
These roasted carrots and candied pecans will look beautiful on the dinner table while also providing a few nutritional benefits to your meal. Carrots and goat cheese are packed with vitamins and minerals, promoting good health and overall well-being. Pecans are rich in antioxidants and fiber, making them one of the healthiest nuts available.
This recipe is easy to make, requiring only a handful of different ingredients and taking an hour and a half to prepare and cook. It serves about six to eight people, though you can easily adjust the recipe to accommodate smaller or larger crowds. When increasing the recipe, be sure to keep carrots spread out in a single layer by using multiple pans for cooking them all.
You could make a few substitutions to fit this recipe to your needs and preferences. Consider swapping orange carrots for purple or replacing maple syrup with honey. For a unique twist that packs a little punch, you could add a dash of cayenne pepper to your candied pecans.
Ingredients
Roasted carrots:
2 pounds of carrots, peeled
1/2 cup brown sugar
3 tablespoons unsalted butter, cut into pats
1 teaspoon salt
1/2 teaspoon pepper
1/2 teaspoon cinnamon
4 oz goat cheese, crumbled
1 tablespoon fresh thyme leaves to garnish
Candied pecans:
1 cup chopped pecan halves
2 tablespoons butter
3 tablespoons maple syrup
1 tablespoon brown sugar
1/4 teaspoon flaked sea salt
Recipe Directions
1. Preheat your oven to 350 degrees Fahrenheit.
2. Place the carrots in a single layer on a baking sheet lined with foil or parchment paper. Sprinkle the carrots with brown sugar, pats of butter, salt, pepper and cinnamon.
3. Place the carrots in the oven and bake for 50-60 minutes or until the carrots are tender. Turn the carrots three or four times throughout the hour to ensure an even bake.
4. While the carrots roast, prepare the pecans by melting the butter in a small pan on low heat. Then add maple syrup, brown sugar and pecans. Stir the mixture for about 2 minutes or until it thickens.
5. Remove the candied pecans from the heat and stir in the flaked sea salt.
6. Place the roasted carrots in a serving dish and sprinkle them with candied pecans and goat cheese. Garnish with thyme leaves and enjoy!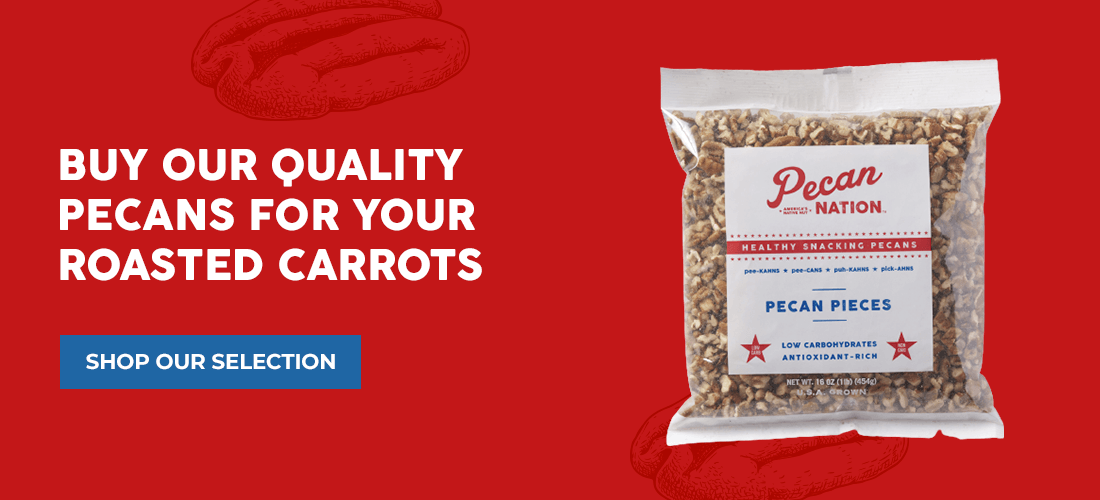 Buy Our Quality Pecans for Your Roasted Carrots
Bring a color-popping dish bursting with flavor to your dinner table this holiday season with help from Pecan Nation. We have the pecans you need to create this mouthwatering treat, from our raw pecan pieces and halves to our baker's special bag. Shop our selections of nuts to elevate your roasted carrot dishes this year!